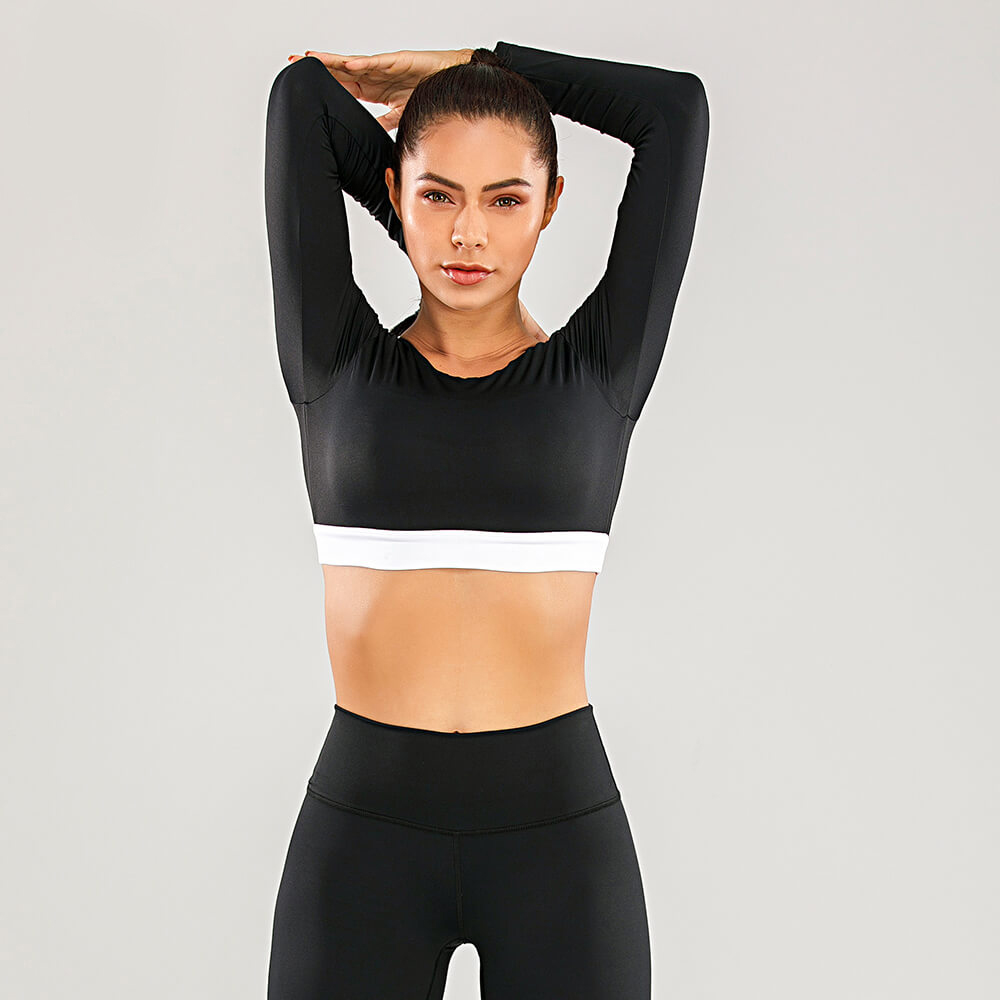 This super soft women's long sleeved sports T-shirt can easily match any tights or shorts. Suitable for any season of the year, no matter what you do in it, it will make you look very fashionable!
characteristic:
This comfortable cotton women's fitness clothes long sleeve sports T-shirt is very suitable for fitness. It features a rib crew neck and short sleeves for maximum comfort. Wear this shirt for yoga or Pilates, gym workouts, hiking, fruit picking in the garden, cycling and other outdoor adventures! Our women's fitness clothes long sleeve sports T-shirts are designed to show your curves and highlight your best characteristics. It is soft, comfortable and made of durable materials that can stretch but will not pull. Its fit adds a little sexiness without too much exposure. Most importantly, it also strengthens the suture and increases the durability. When you go to the gym, wear this long sleeved Sweatshirt alone or under the Sweatshirt to keep warm in the cold season.
Product design:
In order to help women, we have developed this sports T-shirt. Because this is not because of its quality, because of its shape, it is indeed high-quality, because of its design, just like it has been for ten years. And people with experience in making sportswear, we achieve better results. This sweatshirt is simple, fashionable and comfortable. This sweatshirt is sweat absorbing, sweat absorbing, comfortable and natural. We designed this sports T-shirt to help women break through the traditional fitness challenges. Today, we can wear this T-shirt to go out to work, then go out to exercise as soon as we play ball, and then go home to cut it and replace it with her milk to get her breasts. The front lining, side slits and low waist hem provide maximum wind protection, while breathable fabric allows air to pass easily. Women's fitness clothes long sleeve sports T-shirt is designed for active women who want additional warmth and breathable fabrics. 100% polyester with moisture wicking technology provides comfort and cooling in winter, while dry sweat wicking fabric keeps you dry when you sweat during exercise. With our women's fitness clothes long sleeve sports T-shirts, you can easily create a layered look suitable for your exercise or wear casual clothes on cool days. The loose fit and longer length allow you to move freely from yoga to running after exercise in the morning without hindering you. It feels great. It looks great in this women's fitness suit long sleeved sports T-shirt. Its lightweight construction provides breathability and excellent moisture management, allowing you to exercise comfortably.
This women's fitness suit long sleeve sports T-shirt is a sportswear made of lightweight and super comfortable fabric to make you move easily and freely. Special design will make you strong and attractive, and make you stand out during exercise. Wear this women's fitness suit long sleeve sports T-shirt to maintain your style during exercise. These women's sports fit shirts are made of soft cotton structure and long sleeves, which are very suitable for cold months. This is the perfect choice for your wardrobe. Women's fitness clothes long sleeved sports T-shirt is fashionable and unique. Made of high-quality materials and fashionable design, it can help you be faster and healthier. It is durable, comfortable and breathable, so you will enjoy the feeling of lightness!
Show your love of fitness with this women's sports long sleeved T-shirt. It is made of soft and breathable fabric, with spoon collar and full coverage cut. You can wear it on the court or while running, and it will keep its shape even after many washes. There are many colors to choose from, and you will be able to find the color that best suits your style.