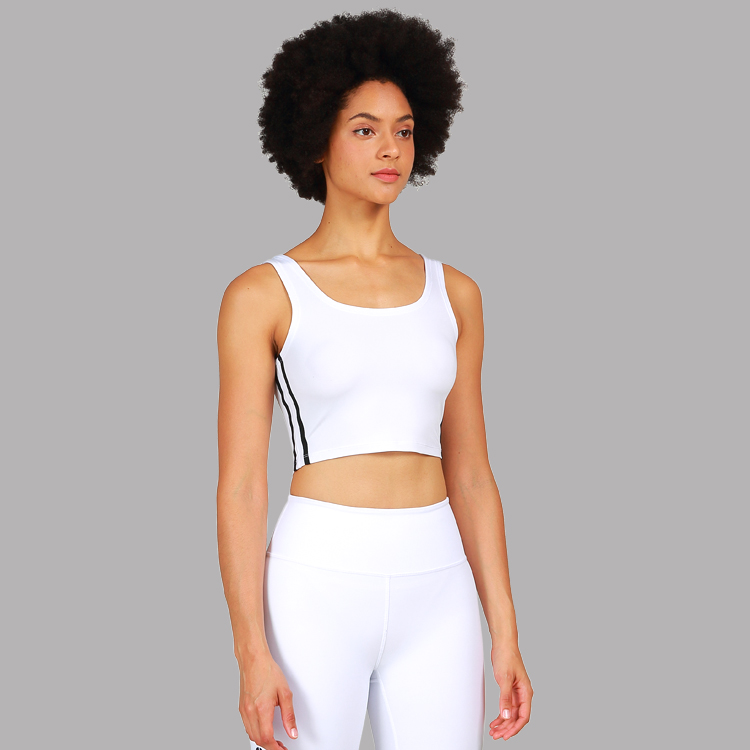 Our newly designed women's sports bra is designed to help you get the perfect fit and help you stay comfortable and feel good during exercise.
Product introduction:
Sportswear women's sports bra is out. Our support sports bra is more suitable for your yoga, training and fitness activities. It offers full coverage and is ideal for low cut sportswear. We are the manufacturer of women's sports bra and women's Yoga bra. The most comfortable women's fitness bra and yoga bra are specially designed for women's i-back fitness jacket, sports vest and fitness clothing. We have a variety of colors and sizes to choose from to help your dress become popular! Women's Yoga bra with exercise bra buckle is very suitable for women engaged in sports, yoga, dance or other sports activities. Bra allows you to move freely and comfortably in any exercise, while providing support and function. Our newly designed women's sports bra is designed to help you get the perfect fit and help you stay comfortable and feel good during exercise. The active exercise bra designed for women is designed with breathable materials to keep you cool and comfortable during exercise. This women's Yoga bra features steel rings for additional support, wide elastic shoulder straps for additional comfort, and molded cups for concealment. After your hard exercise, please put on this yoga bra to recover your body. It will support your body and make you more beautiful.
Mission Runway:
This is an ultra soft and comfortable sports bra with cross back details, which you can easily wear everyday. It has thick padding in the chest area to keep you in place during intense exercise or sports activities. Comfort, performance and fitness fashion are just a few reasons why our sports bra has become your new favorite. This versatile bra is a must-have sportswear that goes beyond exercise and yoga. It can match almost any clothes in the wardrobe. Our yoga bra is an essential daily bra, providing the same amazing comfort and support as our regular exercise bra, while helping you achieve your fitness goals. The pullover design ensures a comfortable fit, while the slim seamless cup makes you look stylish and slim. The adjustable clip prevents them from falling off the shoulder strap. This bra has an i-back design, so it can match almost anything, whether you want to exercise or spend a day, it is suitable for any occasion! Fitness bra women's Yoga bra perfectly integrates comfort and durability, making it the best fitness bra for women. This women's sports bra is designed with a unique combination of breathable mesh material and strong mesh to ensure that you stay cool and focused no matter what sport you play. This stunning sports bra is designed with a soft flavor and is suitable for any occasion. Lightweight materials are soft and breathable, allowing you to move freely during your workout. With enough support, you can exercise without worrying about chest movement.